2-Day Walling Workshop with The Stone Trust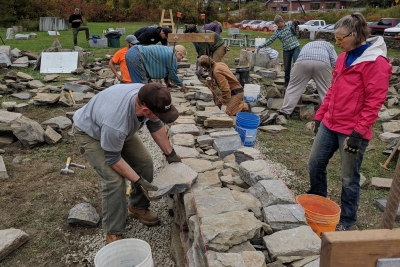 Following the success of last fall's inaugural instructional walling day, The Stone Trust and Vermont Granite Museum are increasing their commitment to developing a permanent dry stone walling learning environment and training resource for central Vermont!
This July 27 & 28, Trow & Holden, the Vermont Granite Museum, and The Stone Trust will be partnering to host the first of two 2-Day Introductory Dry Stone Walling Workshop for 2019.
Hosted onsite at the Vermont Granite Museum in Barre, Vermont, this workshop will feature a full introductory curriculum with hands-on opportunities for beginners and experienced wallers! Each participant will receive:
an introduction to the fundamentals of structural dry stone walling
hands-on building experience of about 35 sq. ft. of wall
instruction led by certified & experienced walling professionals
opportunities to address project-specific technical questions
basics of stone shaping and splitting
Join us, and help advance the continued development of one of central Vermont's historic properties while learning to build beautiful walls that can withstand the test of time. Registration is required, and sign-ups have already begun! For more information about this event and to register, visit the sign-up page at TheStoneTrust.org.
We hope to see you there!
Next Blog Post
This October 6th, Trow & Holden Company, the Vermont Granite Museum, and The Stone Trust will be partnering to host a 1-day instructional dry stone walling day in Barre! Hosted onsite at the Vermont Granite…