Walling at the Vermont Granite Museum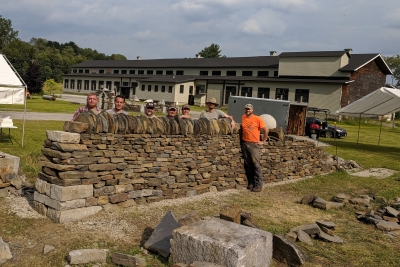 Last month I had the pleasure of being joined by fellow instructor Jamie Masefield to lead a 2-day introductory dry stone walling workshops at the Vermont Granite Museum. It was the first of two dry stone walling workshops being facilitated by The Stone Trust in Barre this year.
And while the summer temps were high, our small group of enthusiastic wallers stripped out and rebuilt nearly 20 linear feet of dry laid wall! It was an impressive feat by any measure, and included the reconstruction of a more advanced cheek end feature. While walling can often be a particularly humbling practice, I am always impressed by the sense of collective achievement that comes with the successful completion of a walling workshop.
For those of us based in central Vermont with ties to the local stone industry and craft, there's an enhanced feeling of appreciation coupled to these events. Each workshop provides the opportunity to publicly celebrate, reinforce, and, quite literally, build upon a regional legacy of stonework.
So, as weather begins its subtle entrance, our attention shifts toward preparations for the next event! Scheduled for October 12-13th, our next 2-day workshop will overlap with the fun, food, and festivities of the Museum's Vermont Granite Festival. It's hard to imagine a better time or place for walling!
If you would like to learn more about this upcoming workshop or reserve your spot on the wall, please visit the sign-up page at TheStoneTrust.org. And, stay tuned for more details regarding the Vermont Granite Festival!
We'll look forward to seeing you there!
Next Blog Post
Following the success of last fall's inaugural instructional walling day, The Stone Trust and Vermont Granite Museum are increasing their commitment to developing a permanent dry stone walling learning…